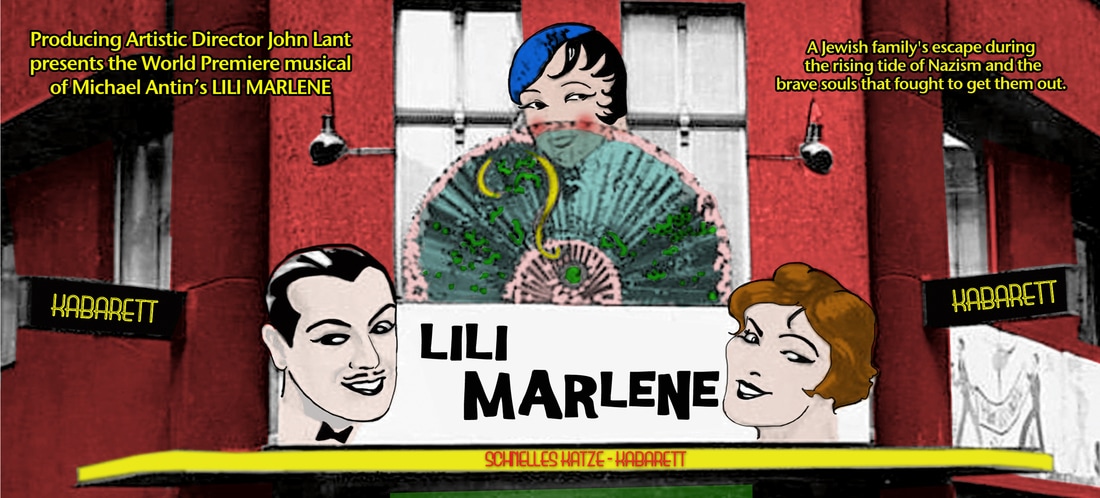 Write Act Repertory's Producing Artistic Director John Lant presents the off-Broadway
East Coast Premiere production of LILI MARLENE, a Jewish family's escape
from the rising tide of Nazism, a new musical with book, lyrics and music by
Michael Antin, opening preview performance Tuesday July 25, 2017
closing Tuesday October 10, 2017 at St. Luke's Theatre.

LILI MARLENE
–

This original musical love story of Rosie Penn, the famous cabaret singer, and Count Hans Wilhelm van Kleister Graff, is set in the last year of the Weimar German Republic and into the 3rd Reich period. As the dark clouds of Fascist takeover become clearer, the Count, as the head of the passport bureau of the State Department, works to get the VIP German cultural and scientific elite out of German. The Count realizes that he must leave and get his surviving family out before the shadowy inhumanity of anti-Semitism descends upon them as National Healthcare and Immigration Reform, Industrial Unity and National Pride become the motto of the new Nazi Part
y.
The critically acclaimed Los Angeles production of the musical, included a Valley Theatre Award for *Outstanding Actress in a Musical –Amy Londyn, and was nominated for eight total Valley Theatre Awards, (Best Play Musical; Best Director of Musical; Best Writing of a Musical; Outstanding Actor in a Musical; *Outstanding Actress in a Musical; two for Outstanding Featured Actor in a Musical and Featured Actress in a Musical).
LILI MARLENE has been praised as "a
stand alone and unique show... I highly recommend Lili Marlene
" (
NoHoArts.com
), "
Come to the Cabaret…tale with incredible talent
" (
The Examiner – Los Angeles
), "performers are all highly skilled actors and singers, especially Amy Londyn as cabaret performer Rosie Penn" (
Broadway World
), "
Director Mark Blowers brings out everyone's best.
" (
Tolucan Times
), and
"The play is a sweeping classic… story is imaginative, not historical, but a tale worth knowing." (Arts Beat LA)
.
Produced by John Lant, Written by
Michael Antin,

Directed and Choreographed by

Mark Blowers; Music Direction and Arrangements: Rocco Vitacco, Dramaturg: Jim Blanchette; Additional Producers: Tamra Pica & Write Act Rep; Associate Producer: Krista Swan; Production Manager: Liz Howell; Casting: Tamra Pica Casting
Cast Members Include: Charles Baran, Louie Bartolomeo, Rebecca Brunelle, Nicholas Tyler-Corbin, James David Dirck, Audrey Federici, Alexandra Gonzalez, Clint Hromsco, Rachel Leighson, Amy Londyn, Matt Mitchell, Kevin Paley, Jacob Rice, Elle Rigg a
nd

Stephanie Michele Toups.
Lili Marlene
– DATES AND TIMES:
Preview Opening
– Tuesday July 25th, 2017 @ 7:00 PM
Opening
– Tuesday August 1st, 2017 @ 7:00 PM
Running Tuesdays @ 7:00 PM through October 10th, 2017
LOCATION:
St. Luke's Theatre located 308 West 46th Street, NY, NY. 10036
TICKET PRICES & RESERVATIONS & INFORMATION:
Tickets cost between $20 and $99 and can be purchased through Telecharge at https://www.telecharge.com/Off-Broadway or by calling (212) 239-6200. For more information, please visit

https://stlukestheatre.com

or

www.facebook.com/writeactrepertory

.
PRESS CONTACT: Stephen Sunderlin -

stephen.sunderlin@gmail.com